Expert Planning. Award Winning Service. Unbeatable Value
Start Planning your Journey
Take a Look at Our
MOST POPULAR TOURS
2018 Escorted Insight Tours
Why Choose A 2018 Escorted Insight Tour?
If you're considering to choose a 2018 escorted Insight Vacation, then you value five star service, which includes centrally located deluxe properties, first class sightseeing, meals, transportation, and amenities. Unlike its competition, an escorted Insight Vacation provides more value than any other first class operator and offers deluxe amenities for far less money than its deluxe counterparts. What separates 2018 escorted Insight tours from other tour operators is its value.
What's Included In A 2018 Insight Vacation?
2018 Easy Pace Italy: $3,575.00 - $357.00 =
$3,218.00
Centrally Located Deluxe Accommodations


Personal Radio Headsets


Complimentary Motor-Coach & Hotel WiFi (Where Available)


VIP Entrance Into Vatican Museums


Visit The Accademia Museum


Private Walk Through St. Francis Basilica With A Local Expert


Take A Gondola Ride While Being Serenaded Through The Canals


Walk Through Pisa With A Local Expert To See The Leaning Tower In The Square of Miracles


Enjoy A Private Tuscan Dinner at Il Poggio


Enjoy An Exclusive Meal In The Heart of Venice
Choosing to participate on a tour like the 2018 Insight Easy Pace Italy Vacation means that as a traveler, you recognize the full worth of value added features. What is VALUE worth to you? The accommodations alone reflect that value in spades...
2018 Insight Hotels
Insight Tours has successfully carried out many satisfactory escorted tours since 1978. Today, Insight accommodates over 100,000 satisfied guests in over 19 countries, including: USA, Canada, South Africa, Singapore, the UK, Argentina, Brazil, Mauritius, India, Malaysia, Hong Kong, Thailand, Philippines, Indonesia, Korea, Taiwan, China, Australia, New Zealand. Tours are available for almost any area of the world that you may desire, as we offer 220 different tours.
READY 4 ESCORTED INSIGHT TOURS 2018?
Transportation
Insight's motor coaches are more comfortable than a standard tour bus. This is because their motor coaches only contain 40 seats, not the standard 53, so you can enjoy up to 100% more leg room! Needless to say, Insight Tours makes seeing the sights by motor coach much more enjoyable. You can rest assured that Insight Vacations works only with the best, qualified motor coach operators on their tours.
Tour Directors
Insight's tour guides are knowledgeable, friendly and will in general make your tour a very pleasant and unforgettable holiday. He or she will guide you through the ins and outs of your trip, as their tour guides are fluent in the local languages. Also, as Insight's tour groups are smaller, you will not only be closer to the tour guide as he is explaining a point of interest, but will have more opportunity to ask more questions.
Accommodations
Insight Tours only selects the best hotels for their tours. Insight wants their guests to experience the best of the location they are visiting. This is why Insight carefully select accommodations that are always located near a local point of interest in the area. Insight Vacations choose hotels near the town center, near popular shopping districts, or in areas where a scenic view is available. Insight's hotel list consists of mostly First Class or Deluxe standard rooms, in only the best locations.
Meals
Insight Vacations knows that great food and restaurants are one of the highlights of any holiday. This is why they go the extra mile to ensure that a variety of delicious local entrees are provided for breakfast and dinner. Breakfast is usually in buffet style, which allows guests to choose which of the delicious hot or cold dishes they prefer.
Insight leaves no detail unattended to in their evening meals. Insight Vacations offers three course meals on select nights, and exquisite buffets on others. They never forget about little extras that make a meal enjoyable, like dessert and tea or coffee after the main course. Tours often include the option to pick between several local restaurants where guests can choose the cuisine they prefer and top it off with beer or wine - all of this being included in the tour cost.
YEAR-ROUND SAVINGS
INSIGHT SOLO TRAVELER SAVINGS
If you're traveling alone, but can't afford the Single Supplement Charge and don't mind sharing a room with someone of the same gender and smoking preferences, then you are eligible for the shared-room savings.
INSIGHT SMALL GROUP SAVINGS
If you're traveling with a small group of 5 to 9 friends and family, you are all eligible to receive a Small Group Discount of 5% off per person!
OFF-SEASON SAVINGS
Autumn, Winter and Spring in Europe are special seasons to vacation. Countries celebrate the changing seasons with captivating traditions, enticing delicacies and joyful festivals. Most importantly, the same top-notch itineraries available during the summer are available at a fraction of the cost!
INSIGHT TRIPLE ROOM SAVINGS
When three travelers share one room on a 2017 escorted Insight tour, they enjoy a 5% Triple Room Discount!
INSIGHT YOUNG TRAVELER SAVINGS
If you have a child between the ages of five and seventeen, he or she is automatically eligible for a "young traveler discount" of up to 10% off the regular tour price!
BACK TO BACK SAVINGS
Book two (2) back to back 2017 escorted Insight tours of seven days or longer, and SAVE SAVE SAVE!
Note: Both tours MUST be booked at the same time for discount to apply.
Save Save Save Save Save Save Save Save Save Save
Reviews
Judy Z.
I want to thank you for all the work that you put into making our trip just right for us. It was wonderful.
Denise M.
Seattle
I wanted to send you this brief note to tell you what a great job Gabriela has done in planning our trips over the last four years. She is efficient, courteous and promptly responds to requests. She goes above and beyond and researches various trip options while trying to get us the best deal. She has saved time and money and makes her clients feel valued and appreciated. Thanks to her, I have not had to haggle with travel and airline companies about trip details or prices. Your company is very lucky to have her as an employee. I wish her continued success with your company.
Judith K.
Excellent and almost immediate service. Plus saved me more money than I anticipated.
Laurel L.
Alex responded promptly and I was very pleased with the professional service. Thanks!
Helen R.
Texas
Carol is very professional , pleasant and easy to interact with. She resolved any questions or issues I needed to address. I plan on working with Carol to arrange future trips.
Sonja R.
Campbell, CA
The Atlas Group makes your traveling/cruising experience effortless. It was very easy to contact them whether by phone or email you would always get a response within (1) business day or less. I am very pleased with Atlas travel and will continue to use them going forward for many travels in the future.
Stephen T.
Very satisfied. Very professional agent. We have booked this tour and are excited to go. We dealt with an excellent travel agent, and I will not hesitate to use you again.
Maurice B.
Burt was very helpful and responded quickly. He had the answers to my questions. He was very professional and did a great job.
Trupti S
Over all we are very pleased with all the information provided by Alex. The process was very smooth. We are excited about our trip to Europe and hoping we will have enjoyable trip without any issue. based on my experience with your company I do have high expectation for this trip.
Maria T.
Carol was a pleasure to work with. I felt that she was very knowlegeable, pleasant and very easy going. She made this process very easy.
Latest From Our Blog
There is an art of traveling in style and Insight Vacations has the formula down pat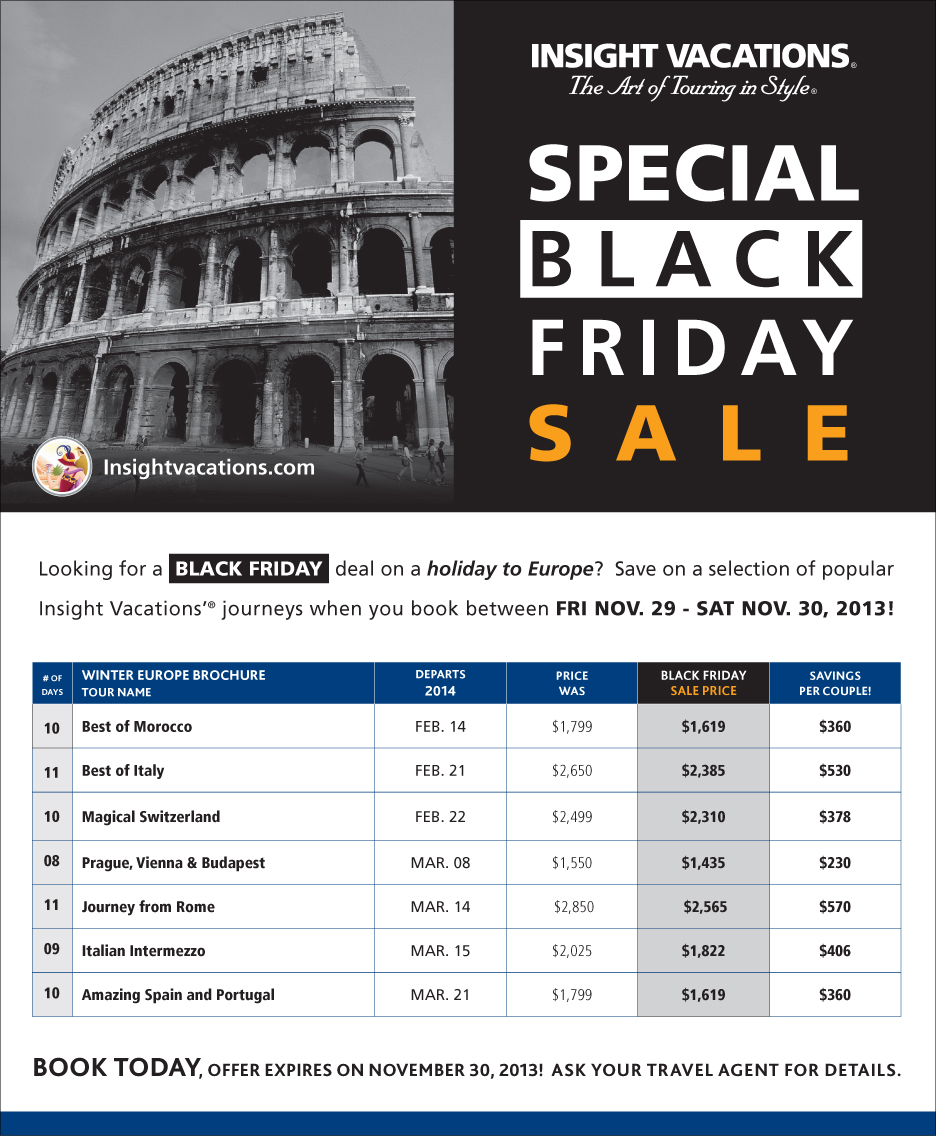 Book your summer getaway now through one of these amazing Insight Vacation Hot Deals!