Expert Planning. Award Winning Service. Unbeatable Value
Start Planning your Journey
Take a Look at Our
MOST POPULAR TOURS
2018 Escorted Insight Tours
Reviews
Oliver C.
We cannot begin to say what an excellent job that our travel agent, Cheryl has always done for us, she consistently does an outstanding job. We are not seasoned travelers and she has always been very patient with us. When we inquire about anything her response is both rapid and fitting. If we were to able to travel more she would be our first choice to utilize due to her fine attitude and talent.
Ron H.
Gabriella has helped me with reservations for 2 different trips. For both trips, she answered all my questions and concerns in a timely manner. She is always professional in her customer service, and her pricing of my trips were excellent. Because of this, I will continue to use Atlas for all my future trips.
Linda K
Brenda was prompt and timely with all we asked of her. And very, very pleasant as well. Very knowledgable concerning the insurance question we had. It was all good and Brenda was patient and professional Great experience.
Jim L.
New York
Whenever the subject of "how did you book your travel plans", we always recommend Atlas Cruises & Tours in Florida and you specifically. And, yes, we beginning to search for 2017 travel. This trip was near the top of our best tours and, as usual, a lot had to due with your support and patience. We look forward to working with you on our 2017 and future plans.
Joanna G.
Richmond, CA
Atlas Cruises & Tours Rock! The quality of customer service provided by the staff is commendable. I vacation at least 2 to 3 times throughout the year and Atlas Cruises & Tours have made planning my upcoming group cruise a wonderful, stress free process.
Cassy P.
Fort Lauderdale, FL
I'm happy that I came across Atlas Cruise & Tours, with so many options out there when it comes to travel planning, it is refreshing to come across an agency that is professional,personable, & local. Not only, will they answer all your questions, they will also find you the best deals & rates for your budget. I would recommend them to anyone who wants a white glove treatment.
Maurice B.
Burt was very helpful and responded quickly. He had the answers to my questions. He was very professional and did a great job.
Shikh S.
Good service and Sandi was very helpful. Clients need all details as normally they are far away from your office and with the time difference of 10-12 hours it is the prompt reply with all details makes the difference between good and bad service.
Trupti S
Over all we are very pleased with all the information provided by Alex. The process was very smooth. We are excited about our trip to Europe and hoping we will have enjoyable trip without any issue. based on my experience with your company I do have high expectation for this trip.
Sonja R.
Campbell, CA
The Atlas Group makes your traveling/cruising experience effortless. It was very easy to contact them whether by phone or email you would always get a response within (1) business day or less. I am very pleased with Atlas travel and will continue to use them going forward for many travels in the future.
Latest From Our Blog
There is an art of traveling in style and Insight Vacations has the formula down pat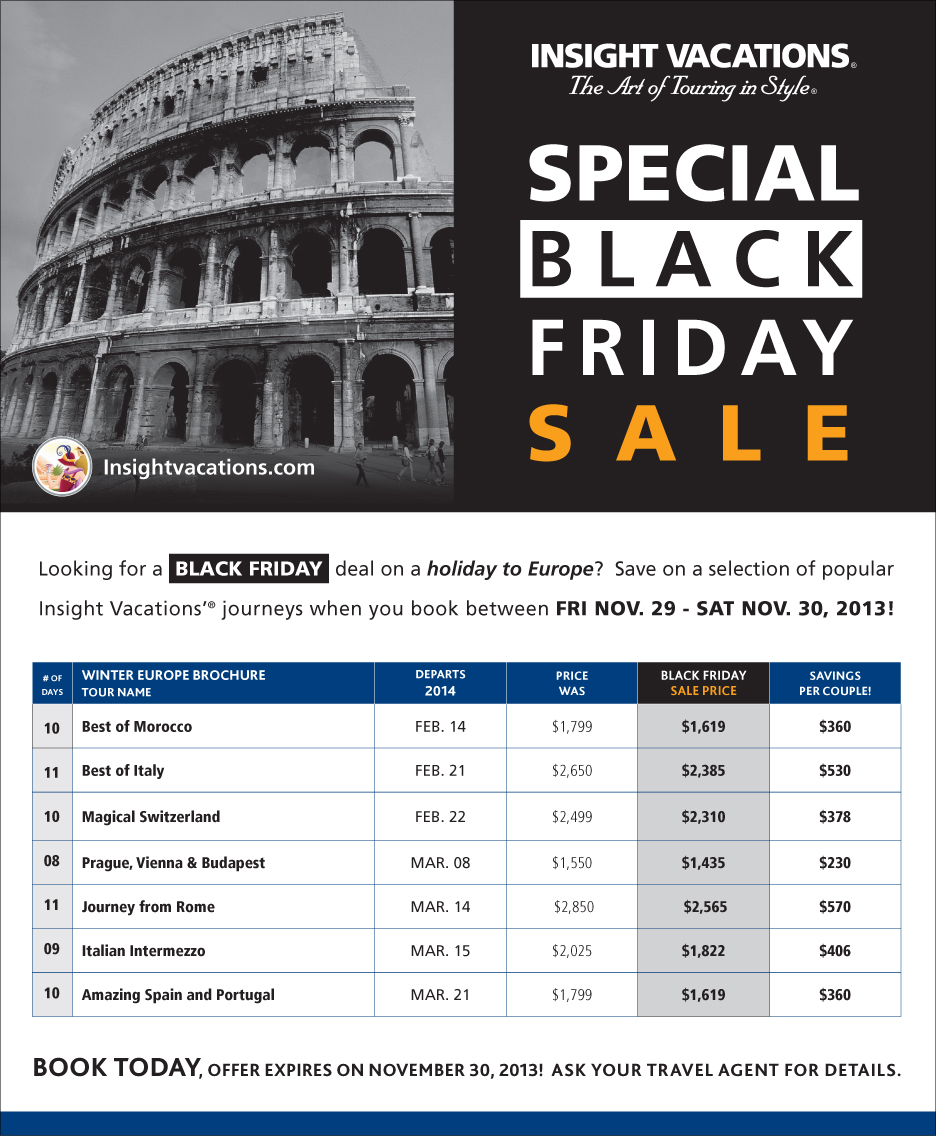 Book your summer getaway now through one of these amazing Insight Vacation Hot Deals!