Expert Planning. Award Winning Service. Unbeatable Value
Start Planning your Journey
Take a Look at Our
MOST POPULAR TOURS
2018 Escorted Insight Tours
Reviews
Lim Y
Gabriela has been helpful & very prompt in providing information about Antarctica trip. We are definitely joining the trip, pending the timing.
Marlene P.
Very Professional - great follow-up. All my questions were answered immediately. I was very happy with the customer service.
Shikh S.
Good service and Sandi was very helpful. Clients need all details as normally they are far away from your office and with the time difference of 10-12 hours it is the prompt reply with all details makes the difference between good and bad service.
Judy Z.
I want to thank you for all the work that you put into making our trip just right for us. It was wonderful.
Jun F.
It was good experience working with Atlas, thank you - we are excited for our vacation!
Maida M.
Brenda was on the ball because she realized I had booked my departure incorrectly and was flying into the wrong airport for the tour. She called me at home and I was able to correct it with the airline at no additional cost to me. I was very thankful !
Anita W.
It was a pleasure working with Brenda Wachs. She provided all the information I needed to book this tour. She was wonderful to work with and when and if I plan to book another tour, I will definitely use your company and Brenda as my travel agent.
Stephen T.
Very satisfied. Very professional agent. We have booked this tour and are excited to go. We dealt with an excellent travel agent, and I will not hesitate to use you again.
Marissa A.
Alex is very helpful, professional and well knowledgeable on European tour. Hopefully, I can book a tour with him in the future. Thanks again.
Denise M.
Seattle
I wanted to send you this brief note to tell you what a great job Gabriela has done in planning our trips over the last four years. She is efficient, courteous and promptly responds to requests. She goes above and beyond and researches various trip options while trying to get us the best deal. She has saved time and money and makes her clients feel valued and appreciated. Thanks to her, I have not had to haggle with travel and airline companies about trip details or prices. Your company is very lucky to have her as an employee. I wish her continued success with your company.
Latest From Our Blog
There is an art of traveling in style and Insight Vacations has the formula down pat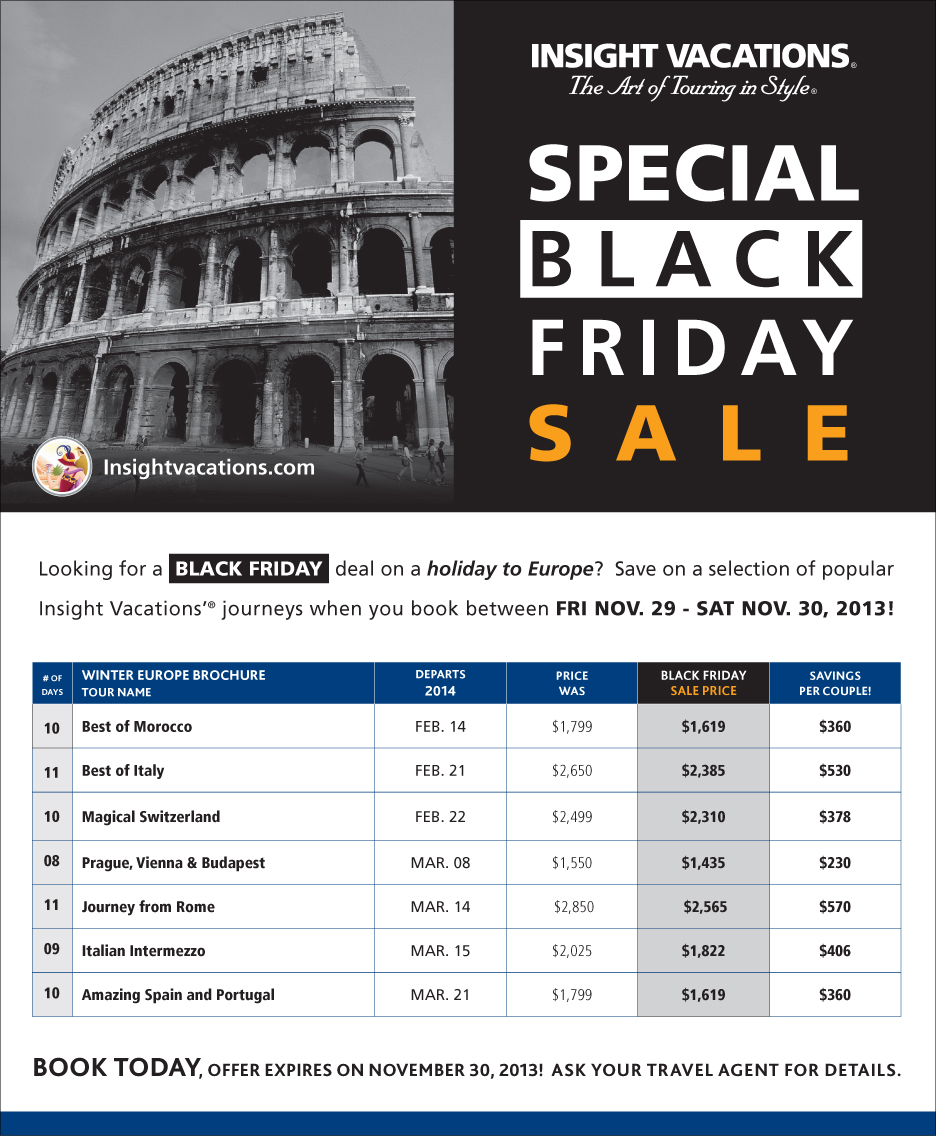 Book your summer getaway now through one of these amazing Insight Vacation Hot Deals!