Expert Planning. Award Winning Service. Unbeatable Value
Start Planning your Journey
Take a Look at Our
MOST POPULAR TOURS
2018 Escorted Insight Tours
Reviews
Maria T.
Carol was a pleasure to work with. I felt that she was very knowlegeable, pleasant and very easy going. She made this process very easy.
Sandra M.
I am very satisfied with Brenda. She does a great job. She booked a trip for us in South America, so we called her again to book this trip. She is very personable and efficient.
Helen R.
Texas
Carol is very professional , pleasant and easy to interact with. She resolved any questions or issues I needed to address. I plan on working with Carol to arrange future trips.
Anthony F.
Indiana
The overall service from Alex exceeded our expectations. He was very efficient and had great attention to the details of our trip. When i plan my next tour, I will use Alex and Atlas again.
Ron H.
Gabriella has helped me with reservations for 2 different trips. For both trips, she answered all my questions and concerns in a timely manner. She is always professional in her customer service, and her pricing of my trips were excellent. Because of this, I will continue to use Atlas for all my future trips.
Anita W.
It was a pleasure working with Brenda Wachs. She provided all the information I needed to book this tour. She was wonderful to work with and when and if I plan to book another tour, I will definitely use your company and Brenda as my travel agent.
Alice M.
Gail is excellent! She knows her business, and is great about explaining the trip. I give her high marks!
Marc R
We are happy with our agent, we booked a few trips with her and hopefully more in the future.
Maurice B.
Burt was very helpful and responded quickly. He had the answers to my questions. He was very professional and did a great job.
test .
I just love your chief programmer that lives in Lakeland. He's just amazing.
Latest From Our Blog
There is an art of traveling in style and Insight Vacations has the formula down pat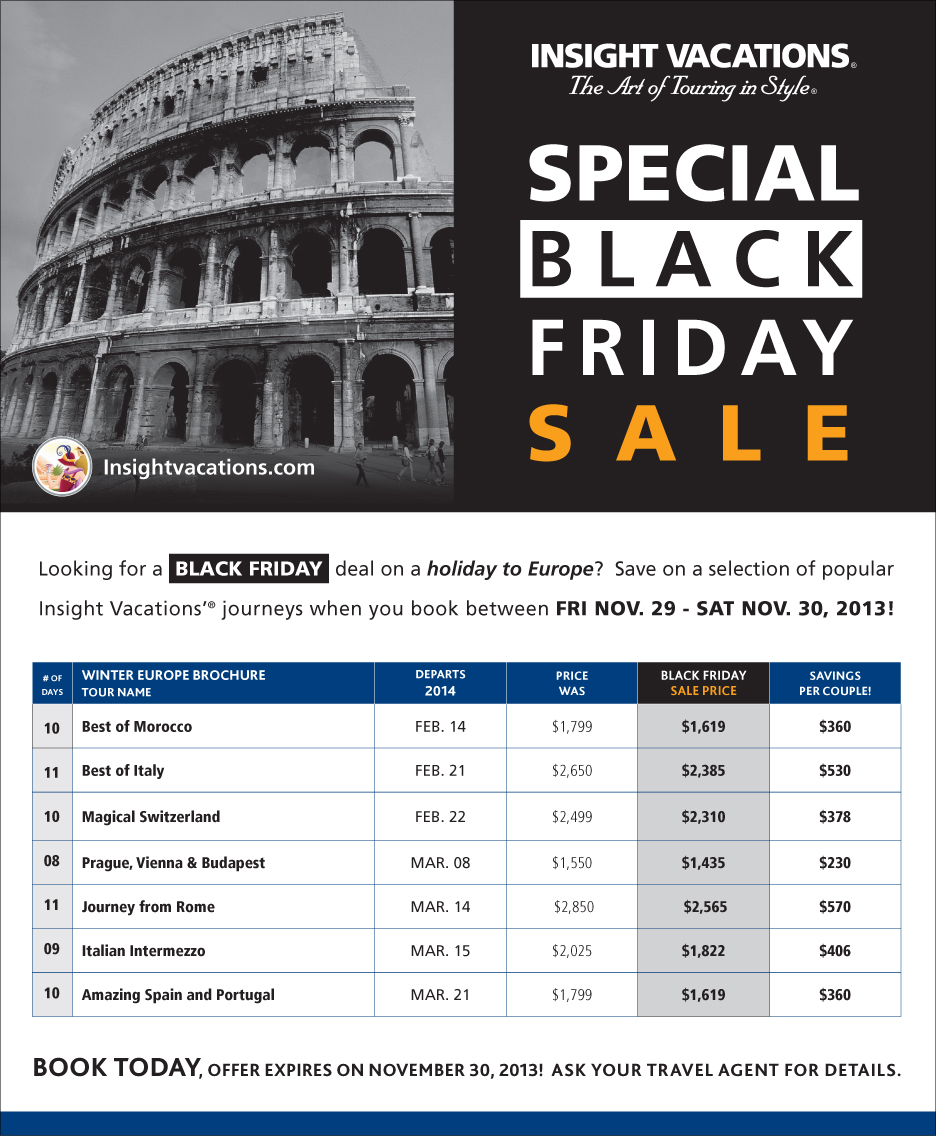 Book your summer getaway now through one of these amazing Insight Vacation Hot Deals!